The Stone Circle by Elly Griffiths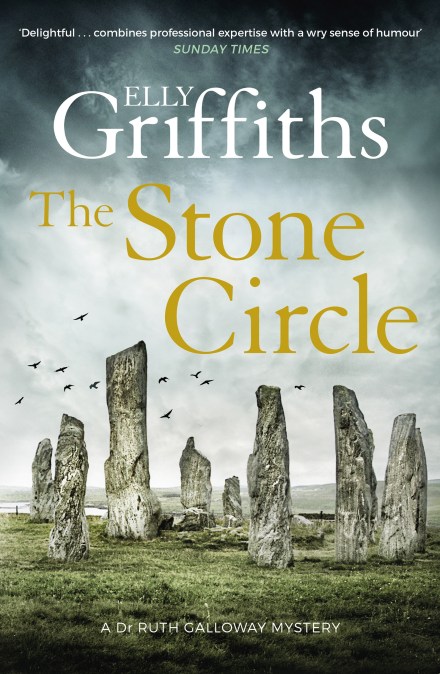 The Stone Circle
is number 11 in
Elly Griffiths' Ruth Galloway series
, in which forensic archaeologist Ruth works with DI Harry Nelson to solve murders in the atmospherically flat, bleak landscape of Norfolk. I love this series and have
written about the other books before
. While I'd recommend them if you're a fan of long-running crime series with characters that feel like old friends and subplots that spill over from book to book, I do think it's a series you need to read in order: the first Ruth Galloway book is called
The Crossing Places
.
In addition to the murder plots that form the main story of each book, matters are further complicated by the fact that Ruth and Nelson are having an on-off - although admittedly mostly off - affair, which resulted in their daughter Kate. Nelson, meanwhile, is still married to his wife Michelle, who knows about Kate, and at the start of
The Stone Circle
is pregnant herself in her mid-40s with a baby that may or may not be Nelson's after her own brief affair with Nelson's colleague Tim.
As you can probably tell, this is a series that relies as much on its ever-increasing cast of recurring characters as it does on the well-crafted murder mystery plots, and
The Stone Circle
doesn't disappoint on either score. The central mystery is sparked by the discovery of a child's bones in the centre of a stone circle currently being excavated by a team of archaeologists: it seems they might belong to Margaret Lacey, a 12-year-old girl who disappeared in 1981. At around the same time, Nelson starts to receive threatening letters which are eerily similar to some he received from Ruth's friend and academic mentor Erik Anderssen in relation to another child murder case (the subject of the
The Crossing Places
). But Erik is long dead - so where are the letters coming from this time?
As the Ruth Galloway series has progressed, the supporting characters have come to play a more prominent role in the storylines, and in this instalment there's plenty for Nelson's colleagues Judy and Clough to do. Nelson's wife Michelle and his grown-up daughters are also important to the plot, and of course there's Cathbad, Ruth's eccentric druid friend and Judy's partner. We also meet Cathbad's eldest daughter, a local journalist keen to get a front-page scoop, and learn more about her slightly brittle relationship with Cathbad and Judy.
In fact, complex, difficult family relationships are a running theme in this mystery. They're certainly a strong presence in the grieving Lacey family, with its remarriages, siblings and half-siblings, but they're present in the people that surround Ruth and Nelson too. What will happen if Michelle's baby isn't Nelson's after all? What will Nelson's adult daughters think if he gives in to his nagging desire to tell them about their little half-sister Kate? There are all sorts of small, simmering jealousies and resentments that surface as family bonds are fractured and glued, sometimes weakly, back together.
As with the other books in the series, this is a highly enjoyable page-turner of a mystery with a solid pace, cliffhanger chapter endings and ongoing character storylines that almost give it the feel of a long-running, beautifully made TV drama series. The Norfolk saltmarsh setting is nicely evoked as usual and lends atmosphere and a strong sense of place.
Is there a definitive resolution to the ever-confusing conundrum of the relationship between Ruth and Nelson? I don't think it's much of a spoiler to say that no, of course there isn't. Will there ever be? Hard to say - we'll just have to see if Elly Griffiths intends to write book number 12.